Trends In Social Media
Trending topic is a term coined by Twitter to refer to the most used keywords on the social network during a given period of time. It is a concept related to fashion trends and topics, what everyone is talking about at any given time.
Social media refers to the flatform which allow people to share any type of content quickly.
Improved social shopping technologies fuel sales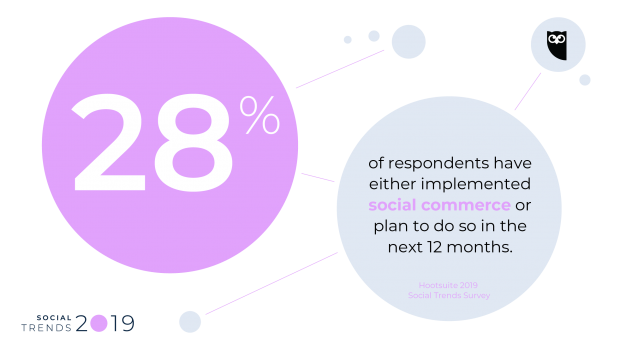 In Asia, social commerce adoption has been swift, with 70 percent of China's Gen Zers now buying direct from social. But social commerce hasn't kept pace in North America despite the long-hyped promise of buy buttons.
But new and evolving technologies are changing that—especially for young buyers.
Instagram's shoppable posts now allow users to go from discovery to checkout without ever leaving the app. And the platform has even added a Shopping tab to its Explore page.
Facebook's Marketplace is now used in 70 countries by more than 800 million people. And on Pinterest, 55 percent of customers using the site to find and shop for products.
Video, in particular, is proving a critical bridge for social commerce. In a study of 5,500 consumers by video marketing company BrightCove, 74 percent of viewers drew a connection between watching a social video and making a purchase.
And beyond the familiar YouTube, new formats—from in-stream buying plugins for Instagram to livestream shopping on WeChat—have emerged for integrating social video deeper into the buyer's journey.
It's important to remember
that what distinguishes social commerce from other channels is the social aspect. Finding ways to make shopping live, interactive, and seamless—even on mobile devices—is key.
Messaging eats the world
Customers demand better 1:1 social experiences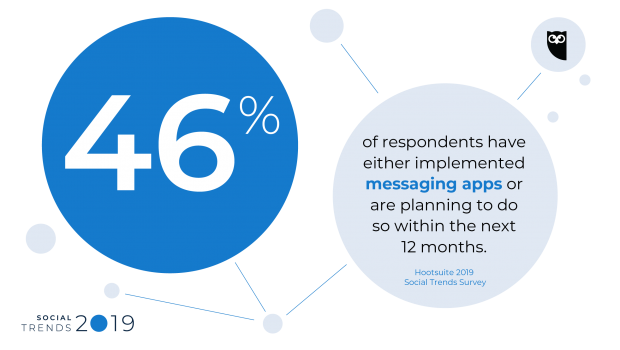 The top messaging apps WhatsApp, Facebook Messenger, WeChat, QQ, and Skype—combine for nearly 5 billion monthly
active users. That's more users than the traditional social networks have worldwide.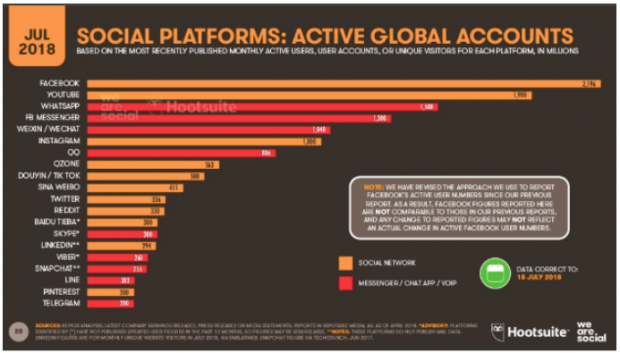 Across the board, users are spending more time on messaging and less time sharing news on social. This shift from public to private spaces is changing consumer expectations.
Nine out of 10 consumers would like to use messaging to communicate with businesses, according to a survey of 6,000 people globally. In the U.S., messaging is the most preferred customer service channel. In a 2018 survey of8,000 people conducted by Facebook, 69 percent of respondents said that directly messaging with a company helps them feel more confident about the brand.
Brands are leveraging user-generated content
User-generated content is basically like free advertising. It's one of the best ways to grow your business by doing less work.
Get customers to talk about your company.
Encourage them to use hashtags and post about your brand on social platforms. One of the simplest ways to accomplish this is by posting user content to your company's profile.
If people see you are willing to feature user photos, more people will post about you in an effort to be selected.
Look at how Thule employs this strategy on its Instagram page:
As you can see from the comments section, the user who shared this photo even thanked Thule for posting their content.
Now more followers will be encouraged to do this as well. It will broaden the reach of their products to a wider audience.
When a customer posts about your company on their personal profile, it exposes your brand to all of their followers. Some of these people might not even know your brand exists.Plus, people trust recommendations from their friends and family.
That's why leveraging user-generated content is a top lead generation strategy. Social media platforms are the perfect distribution channel for this type of content.
BURNING OF AMAZON RAIN FOREST
The Brazilian Amazon continues to burn. As international leaders call for action and the Brazilian military
attempts to battle the flames, researchers have started to warn that if the spate of fires continues to spread
into the forest, the flames could bring a massive transformation to the region. The process could turn
once-moist jungles into dry wastelands, killing ancient trees, making them more vulnerable to future fires
and releasing millennia of trapped carbon into the air.
It's still unclear how much harm the tens of thousands of recent blazes, most of which have been linked to a
spike in slash-and-burn deforestation, will end up causing. However, decades of research provides a picture
of what may happen next. When the Amazon burns, the consequences are often devastating because the ecosystem
evolved for millions of years without fire.
we are not going to have an equivalent rain forest for 100 of years
and that 100 of years we don't have.
You've taken thousands and thousands of years of carbon accumulation, you've vaporized it and you've put it into the atmosphere," . "You're not going to have an equivalent rainforest for hundreds of years. And that's hundreds of years we don't have."
In 2018, for example, a group of Brazilian scientists discovered that once-burned forests across the Amazon
hold 25 percent less carbon than those that were not set ablaze, even after 31 years of regrowth.